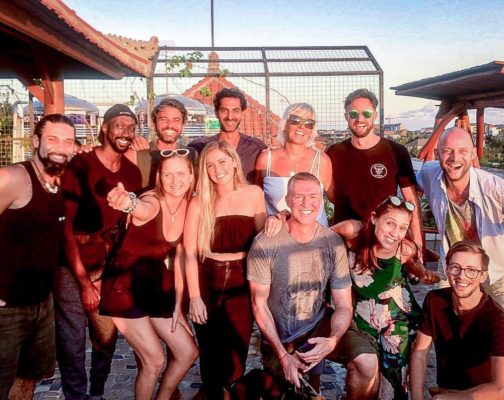 That's a wrap on the Bali chapter for me. What was originally intended to be a 2mo stay turned into an inadvertent 6mo stint due to Covid. Here's the condensed summary of my last few weeks there:
I spent the 2nd half of June living in this ridiculous villa with @helensimkins , @christabellatravels and @nikkibartol. Views were stunning. And we had laughing ducks.
We had a proper July 4th BBQ at @canggucamp308 that rivaled anything I had done in the States, complete with grilled corn and a decapitated giant floating flamingo.
I moved into my buddy Trevor's place and would spend my last month there. His villa backs up against a small jungle and has epic sunsets.
He introduced me to my favorite running trail. I would spend every other day in July running a narrow road between the rice fields listening to podcasts.
Meet Bowie, perhaps the world's cutest puppy (next to @almathebalidog ).
This little guy I never knew his name but he was intent on stealing my Oura ring.
We had a magical Vietnamese dinner overlooking the rice fields. Shoutout to @_rachelcrocker_ for launching her sales course.
Winner of the most under-appreciated tech of the trip: the AirPods. These things proved to be indispensable for navigation. It's funny, in December I was terrified to ride as a passenger on a scooter let alone drive one yet I now feel fully-proficient and ended up using one daily the entire time in Bali. Cheers to conquering fears.
Bali was an incredible, unexpectedly-prolonged chapter and there is a 1000% chance I will be back. For now I'm back in Lisbon and looking forward to trying beach life in some of the coastal towns in Portugal via the @selina "Passport" product.
Selamat malam (at Canggu, Bali)