It's at the core of every innovative advance; that magical moment that occurs when your sphere of awareness extends to encompass new territory – the stuff "you didn't know that you didn't know." This typically happens when people from different cultural, disciplinary or age groups traverse one of these boundaries and cross-pollinate an idea that had meaning in one context into a new one. So what do I mean by, "don't know what you don't know?" It's important because this is where the magic of innovation occurs. Everyone loves a good pie chart, here's one: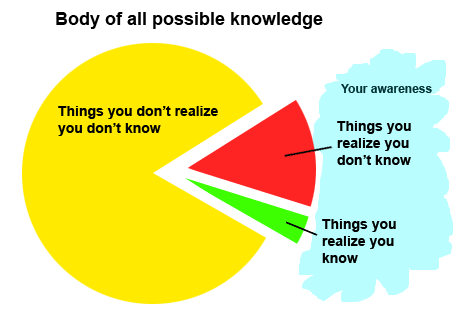 Let's assume for a minute that we can represent the theoretical body of all knowledge in existence as a pie. Sorry to burst your bubble but you know about one sliver's-worth of stuff – all the things you can do yourself (speak English, use a computer, read a blog). You're aware of a larger chunk that you cannot currently do but nonetheless you still know exists (how to bull fight, speak swahili, knit a sweater). These two taken together constitute your awareness of the world. But
you remain oblivious to the vast majority of this pie
(pacman's body in this picture). It exists regardless of your awareness and from time to time knowledge from pacman is absorbed into your world either through first-hand experience or simply by becoming aware of what you don't know. What's an example of knowledge from this mysterious
pacman space
? For instance, until my friend Bryce told me, I never knew the spinning hard-boiled egg trick. You can tell the difference between a hard-boiled egg and an uncooked egg because the uncooked egg won't readily spin (presumably because the inertia of its liquid center and the tendency to resist a change in motion).
If the real advancements occur when you are able to access that pacman space and discover insights that let you innovate, how can we willfully tap into that knowledge? I know of two ways and one of them we're facilitating tonight in Scottsdale.
Stone Soup Seminar
Our friend Ed describes this concept as "not being aware of the water in your own fish tank" and the epiphany that occurs when you are able to see the water in other people's tanks and make inferences about your own situation. If you're local in Phoenix tonight, come out to the first ever "Stone Soup Seminar." The design of the event is to distill the suggestions of the crowd to solve business and technical challenges of the first twenty people that RSVP. The benefit is that as an RSVP'r, not only do you get actionable suggestions to solving your problem, you get the additional perspective of the fish tanks around you and the chance to reach into pacman space and learn about the stuff you didn't know you didn't know.
Innovation Games
I completed my certification this weekend in California to be able to facilitate the Innovation Games ® as collaborative exercises to unearth insights into customer needs. It's very difficult to ask a customer what he/she wants in a new product and get a meaningful result- had Apple explicitly asked people what they wanted in a music player it's unlikely we would have arrived at the iPod and yet it's a ridiculously popular product. Innovation Games are one way to build the bridge of understanding starting on the customer side of the river and working your way backwards. If we get through every one's issues and still have time left over, we'll experiment with some of the Innovation Games. I had the opportunity to do a podcast with the author of the Innovation Games book, Luke Hohmann- you can listen to his interview here.
I know we're competing with the Sun's Playoff game tonight but the game doesn't start until 7:30pm and the first quarter of basketball is always boring anyways. Details on the Stone Soup Seminar are here and we look forward to learning the stuff we didn't know we didn't know from you all.
11 Responses to "How to tap the knowledge you don't know you don't know"