This post is part of an ongoing series entitled "a post a day every couple days for the month of May." It's an unfolding exploration of the concepts from the book "Get Lucky."

Neo, sooner or later you're going to realize just as I did that 
there's a difference between knowing the path and walking the path. 
-Morpheus from Matrix

If the skill of Preparation exists on the "can you?" side of the equation, the skill of Divergence sits squarely on the "will you?" side. The book covers some interesting stories in this chapter (the Cornell anti-creativity uncertainty study, the cautionary Borders Books vs. Barnes & Noble tale and Jeff Bezo's bet on AWS, a business which would single-handedly trailblaze an entire industry now called cloud computing). The main message with Divergence is that it does us no good to practice the other skills if we confine ourselves familiar territory. It's only when we break from the well-worn path and explore the side streets that the magic occurs. I want to share two personal stories of Divergence but first I want to talk about a guy who embodies a concept of Divergence: Iceman:

Wait a minute, not that Iceman. This Iceman: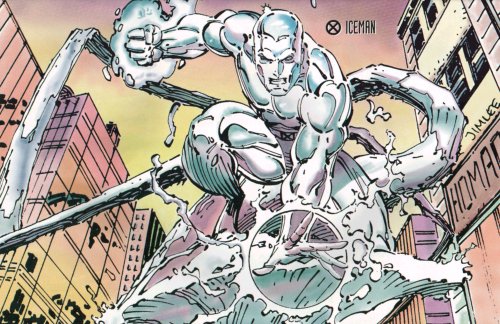 This was by far the coolest Marvel comic character. His super power was his ability to shoot ice crystals out of his hands and manifest an ice platform wherever he went allowing him to skate anywhere he chose. We're entering borderline foofoo metaphysical territory now but Divergence (from personal experience) seems to endow muggles like ourselves with a bit of this same super power to "pave our own roads as we go." Here are two personal stories that illustrate what I'm talking about.
The Great SF Roadtrip of '07
In November of 2007 I embarked on what would prove to be an epic 31-day road trip around Silicon Valley. You can read the series of blog posts from that trip here. This trip was one massive case study in Divergence. It was largely unplanned and with the primary goal being to increase our surface area and compensate for JumpBox's lack of contacts in the Bay Area.
In the course of that trip one thing led to another and I wound up meeting people who have since become friends and extended family of the Phoenix startup community- people like Jeremy Tanner, Andrew Hyde, Jasmine Antonick and Sarah Blue. I would end up staying on seventeen different couches during the course of that trip. Through an ex-relationship of a sister of a friend I would wind up having beers with one of my startup heroes, Mark Fletcher from the book Founders At Work. And then lunch with author of the book and wife of Paul Graham, Jessica Livingston. And then… you get the point. In the end we found ourselves in talks with seven different top-tier Sand Hill Road venture capitalists (having not one meeting planned in advance of departing).
When I examine what worked on that trip and try to identify the secret sauce I'm left with a dissatisfying answer: chance. But having now read Get Lucky I realize that I inadvertently practiced most of the skills advocated in the book. Each day I scouted for some peripherally-related event that might have a group of likeminded strangers in attendance and purposefully put myself in foreign situations. I accepted invitations to dinner from folks I had just met. I never stayed in one place more than three days and always I was open to changing the plan and going wherever the next encounter led. In short, I decidedly diverged from my element and in so doing paved an ice bridge in realtime that carried me wonderful places.
Here's another story of some friends who are masters of Divergence.
Life at ten miles per hour
Hunter Weeks and Josh Caldwell weren't always world class film makers. When I knew them in 2003 they were my roommates in Scottsdale, AZ and co-workers at Initech, ahem I mean Saleslogix. About a week or two after I quit that company they did the same to pursue a life changing road trip of their own. They would drive the length of the United States at 10mph on a segway scooter and film what would later become a film-festival-winning documentary of their journey. Almost a decade later their movie just last month debuted on Netflix's and held the top slot for viewer's choice documentaries. Their story was picked up by just about every major news outlet and their trip concluded with them driving their segway onstage to a public speaking event where Segway inventor Dean Kamen greeted them and had them share their story.
Of course at the time they began their journey they had no media connections, no ties with Dean Kamen, no plan other than to head east starting at Pike's place in Seattle with the hope of getting to the east coast before it got too cold. The uniqueness of their story enabled them to talk with any and everyone they met along the way and manifest an "ice bridge" they would use to ride into film success. They were masters at capitalizing on chance encounter upon chance encounter and building an unstoppable momentum with the press around what they were doing. If you were to ask them today what they attribute the success of that film to, undoubtedly there would be 3 parts hard work but at least one part serendipity. And it all stemmed from a conscious decision to stray the path and do something decidedly out of the norm viewing the world at the uniquely slow pace of ten miles per hour.
The commonality of these two stories is that the act itself of diverging can pave the road in front of you as you go in a way that isn't possible via planning. Or as my favorite quote of my favorite author says: "When you go after your Personal Legend with all your heart, the whole universe conspires to help you."
On another note, I was fortunate last week to catch up with Lane and Thor while they were in Phoenix and record this podcast with them talking about their book. Check it out and change your tune: Bassnectar – Lights Remix