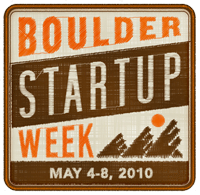 I'm back from a week in Boulder, CO for their Startup Week palooza and holy shnikes was it a neat series of events. I wanted to do a braindump of my thoughts on the weekend while they're fresh.
First, kudos to Andrew Hyde for pulling this thing together- what an amazing community they have up there. Paul Graham had written a post a few years ago that distilled the traits necessary to produce the next Silicon Valley. While Boulder is no SV (nor should it necessarily want to clone that) there is definitely something other than beer brewing in that town. And I'm not the only one this weekend that felt it – Chris from RWW (another AZ person) sensed the same thing.
What worked well
Plancast – this is an app that allows people to express their intentions of what events they'll attend. This worked extremely well for coordinating things. It integrates w/ Twitter and FB and allows you to parachute into a situation and conveniently track what's going on and schedule where you want to be. But it's more because it allows you to connect w/ attendees after the fact so you don't have to obsess over collecting people's contact info while you're enjoying the moment. I was skeptical of this app when I first heard about it because it has the same downside of LBS only amplified because you're publicly projecting your intended location for the future. Well, I stand corrected: this is a kickass tool and I hope all conferences adopt it (or something like it).
Startup Crawl – I co-founded a company called Pubcrawl.net back in the day. We ran crawls in Phoenix and made a site which enabled 100+ other cities to run crawls of their own. We knew the magic interaction & serendipity that occurs when you get a group of people to travel together amongst interesting locations. This worked really well and I want to do something similar with the meetup group I run for techies in AZ. You meet the people in your group, learn about the companies that you visit and the whole thing is super-fun. The TempeNerd lunches have been somewhat anemic lately but I believe this tweak to the format will revive it and take it in a new and more social direction. Unfortunately Phoenix is so geographically disbursed it will be a challenge to find pockets of startups within walking distance but I have some ideas. I've put a picture set at the bottom of this post to give you a flavor for what the crawl was like.
Ignite Boulder – solid to very-solid. They rocked this event and nailed the major things you need to do:
venue with character
quality speakers
flawless A/V execution
likeable moderator
live-streaming for remote folks
intermission w/ beverages
legit live music
ice-breaker nametags
a pre and post party for people to socialize
You get these core things right and you'll naturally draw interesting people. Jeff Moriarity is kicking butt w/ our Ignite event here but we can definitely learn some lessons from Boulder's.
The bigger picture
I told Andrew the bigger picture of what's happening here is a "unification of the tribes." Economy 2.0 is going to operate very differently from what we know today. The facts we do know at this point:
it's unquestionably f#$%'d now and not going to fix itself.
entrepreneurship will play a prominent role in the recovery.
collaborative technical infrastructure has evolved to the point where people no longer need to be on-premise to participate effectively on a team.
while in-person presence is not essential to render work, there is no substitute for intermittent convergence of people who can then remain in contact afterwards via digital means.
I don't know that Boulder represents the "next Silicon Valley" but I also don't know that we need another Silicon Valley. Whatever it is it's stacking up to be a hub of startup activity. The quality of their community is testament that they're doing something right up there in the mountains. I'll definitely be searching for an excuse to get back there next snowboarding season and looking forward to staying in contact w/ some of the people I met up there in the meantime.
Props to peeps
Random shout outs in no particular order to some of the interesting people and companies I hung out with up there: Chris Hough, Suzan Bond, the Tweety Got Back girls Heather and Rachel, Lane Becker of Get Satisfaction, Micah Baldwin of Graphic.ly, Joe Stump of Simple Geo, Ari Newman of Jive (formerly Filtrbox), Ben Brikerhoff (formerly of Devver), Brandon Harper and of course Jeremy & Andrew.
If we met and I haven't connected with you on Twitter yet hit me up.
Thanks Boulder people for welcoming us travelers into your community this past week. You guys have at least one guaranteed couch here in Phx to crash on when you need it.

Created with Admarket's flickrSLiDR.