I'll let these select photos taken by the skilled photographers in our group speak for themselves:

We're exactly halfway through our month here in Prague and I wanted to take some time to share some observations and thoughts on this city and our band of nomadic knowledge workers.
General Impression of Prague
First off, I did a 10min walking & talking video short last week showing a bit of our live and work space. If you haven't seen that already check this post to get a good flavor for our day-to-day setup. My buddy Chris Peloquin from AZ who is also on Remote Year just launched his blog and did an excellent write-up here. Some other good blog posts from folks in our group here here here here here here here here here here here here here here here here here here and here. We have some talented writers in our tribe – highly encourage skimming their first impression posts.
This is our full crew at orientation: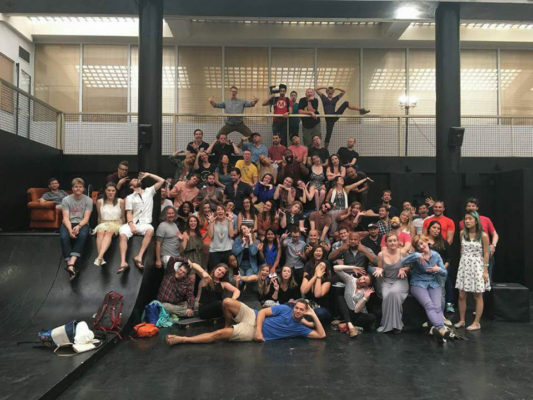 Some things that immediately struck me about this city are its cobblestone streets, ornate architecture on even the simplest of buildings and its tree-lined avenues. Here's what a typical street in Prague looks like:

We get rain showers about every other afternoon which translates to Seattle-level parks and foliage everywhere. People-wise, the Czechs come off as cold and unfriendly at first but they warm up to you as you interact and are really nice people. The food here has been pretty solid- there's just about every cuisine imaginable. The Czech traditional fare is hearty cabbage, ham, sausage, potatoes, and kraut. I had intended to cook about 1/3rd of my meals at home but I have yet to even cook one- it's just so freakin' inexpensive to get good food out a restaurant that I've been going out every meal (I'll undoubtedly have a gut to show for this later but for now I'm indulging). We ate at a 5-star restaurant the other night- had appetizers, wine the entire evening, a huge entree, dessert, digestif and the bill per person came to $1000 CZK ($40 USD). You can eat like a king here for the cost of a sub-par meal in the States. I imagine we'll cook in a lot more when in London where the prices will roughly double.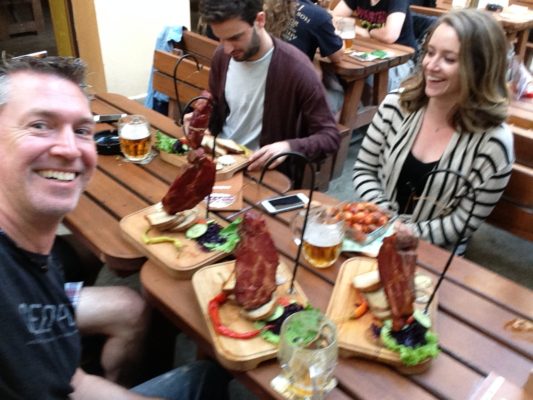 The public transit in Prague is on point. We went to the Prague zoo this past weekend and took the subway and a connecting bus there in 45min and it was a breeze. They have above-ground trolley cars that look like they were built during the cold war era and both Uber and a local Czech Uber competitor exist for ride sharing at about 1/2 the price it would be in the US. I bought a $30 month-long all-access transit pass which allows me to use any form of public transportation around the city.

Living accommodations are solid as well. The apartments we're staying in were seemingly just remodeled and are roomy, modern and comfortable. It's a little weird they don't believe in top-sheets apparently – you have this split comforter thing going on but easy enough to get used to:

Location-wise we're in the heart of Praha 2 just south of the towering Nám?stí Míru cathedral which is about a 15min run to the Vltava river and about a 25min cab ride from the air port.

Our workspace, K10, is in the former Dutch Danish embassy about a 10min walk from our apartment and likewise is all we could ask for in terms of a space. This is the work space and some photos inside and in the garden out back:

I developed the patent-pending "Tree-cliner" office chair and have been alternating between that and my precarious jury-rigged standup desk to mitigate tall-guy-back-issues:
Chris Peloquin put together a great short video showing off the highlights of Prague:

Getting work done
I've been remote for Pagely since starting last August so not much has changed workflow-wise for me, I'm just now 9hrs ahead of AZ. The timezone offset takes some getting used to but it's actually nice to have the morning free to exercise and explore. There's also something to be said for having staggered windows of availability with constraints on internal interaction – it forces you to be very focused and gives you fewer interruptions. I'm typically a night owl anyways so I usually do something fun in the morning, grab lunch around noon and roll into work at about 1pm, knock out anything I can do solo and do scheduled calls between 2pm-9pm essentially on East Coast hours now. I landed a massive client for Pagely on the 2nd day here so that helped give an immediate injection of confidence early on that this working situation will be fine. BTW for two great books on this new model for working check out 37signals Rework and Remote.
My second fear outside of timezone schedule was having a sketchy Internet connection – that has proven to be largely unfounded though we did had some dicey Internet in the first few days. K10 seems to have made some tweaks that have improved the wifi connection since we arrived. I upgraded our Uberconference plan and get a local Czech dial-in number. I now do most calls by using my alternate phone with a local Vodaphone SIM card to just call into the conference bridge on the local number instead of doing the web browser VoIP connection. This has worked well and been really reliable. The other nice byproduct of that is I can do calls in the garden even where wifi doesn't reach. I tend to get upper-back issues from being 6'7″ hunched over a computer at a desk. I've been able to MacGyver a passable standup desk that I use for part of the day and then use my recliner in the garden when I need to switch it up.
One thing that is mildly annoying: I have a bunch of music gear stored at my folks' place back home and had intended to sell it remotely via OfferUp. It seems they block both the iPhone app as well as the web app for both Czech Republic as well as for the US domestic endpoints of the Cloak VPN service I use to be able to teleport my connection around the world. I was able to spin up a Windows EC2 instance on AWS and access it that way but it's a cumbersome way to go back and forth and the web app unfortunately only has messaging capabilities for existing items but no ability to post new ones :-(. A fellow remote in the group has recommended an alternative service for liquidating the music items so I'm intending to try that out as soon as time permits.
Random Observations
The first two weeks was a whirlwind of meeting people and cramming in various orientations, mixers, tours and different events. In Prague beer is actually cheaper than water – combine that with the demand for social lubricant in situations with 75 strangers rapidly meeting one another in a strange place and you can do the math. It feels like things are finally settling down though in the 3rd week and most folks have now met each other and established some level of comfort in the group. We have a great mix of people of diverse backgrounds and a few who have yet to join either for visa or personal complications.
We have a Slack team setup for the group to communicate and it has been an excellent way to self-organize but has also been a serious FOMO factory. It's this 24×7 firehose of activity on what others are doing. We never had a "Slack etiquette 101" so a lot of folks are unknowingly abusing the @channel and @everyone functions. I've just this week had to mute all channels to prioritize the Pagely Slack channel. One interesting byproduct of traveling this way as a group: it's almost like the group is this giant octopus organism with tentacles in various parts of the city at any given time. We're able to parallelize sightseeing and learn which restaurants/events/trips are worth hitting. It's actually a crazy effective way to split up, cover a lot of ground and minimize trial & error in finding the gems around town. This is a nice and unanticipated benefit of this mode of travel.
Future-looking-wise, even only two weeks into this year-long trek I find myself questioning how I'll possibly return to a sedentary lifestyle at the end of it all. Some people are already talking about doing a year of Roam as a potential transition plan after RemoteYear and prior to settling down somewhere. I suppose we may all be tired after a year of travel and ready to settle but I certainly don't see myself owning a house again anytime soon after. The idea of having a permanent residence at this point definitely seems more weird than not… which in itself is weird…
Other random thoughts cycling around my head lately: "Will I still remember how to drive a car this time next year? Do I even want a car anymore?" As my buddy Chris Kracht commented on a FB photo the other day, the vibrance and walkability of a city like Prague is a pure boost of energy for your soul. Hard to imagine returning to freeway commutes and strip malls but who knows, maybe it'll get old.
Who the heck owns the patent on this flushing mechanism? Every restroom in Prague uses it. The inventor has to be worth at least a zillion koruna…I want his/her royalty check: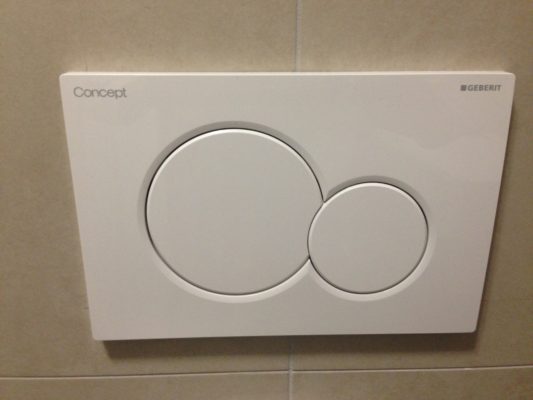 Anyways, this post ended up being way longer than I had anticipated. I'm intending to do one of these halftime updates at the halfway mark in each city and hopefully a more introspective reflection piece upon leaving each locale. I also thought it'd be cool to include a look at the music I'm feeling right now- here's two artists I recently discovered that I'm really digging:
Moving Mountains <- Taking Back Sunday meets Explosions in the Sky
Lonely the Brave <- Volbeat meets Peter Gabriel meets Frightened Rabbit
If you're not already signed up to get my periodic email updates, you're doing it wrong ;-)