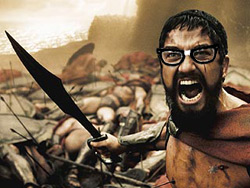 TempeNerds got its 300th member today. This is a monthly lunch gathering I organize to bring together techies from Phoenix Metro. The thinking is that the better we know each other's talents and businesses, the more we can make appropriate referrals. This group has been growing steadily since its inception a year ago and saw a significant influx of new members with the last lunch we did at Terralever.
Groups like Nerds, Geek 'N Eat, Gangplank activities and Reopen Phoenix are badly needed to compensate in metro areas like Phoenix that suffer from massive urban sprawl and fragmented communities. If you're here and know a fellow techie that hasn't been to one of these group events, follow the action on Eventification and bring that person out to the next event. Help the nerds prevail.
We. Are. SpartaaAAAAAA!
Any other worthy local tech groups I failed to mention?
3 Responses to "TempeNerds is now 300 Strong"