Big ups to Derek Neighbors for pulling together the first ever Phoenix Dev House last night and hosting it at his place. It was a 12-hr hack session modeled after the first one conducted in SF. The idea is to get a bunch of coders together in a room and kick around ideas and then act on them, cranking out some code and getting something tangible finished by the end of the evening. At the first Super Happy Dev House they ended up writing the wiki system that was used to collaborate on future events (apparently Derek used this as well for the Phx site).
There were some great demos- Brian Shaler showed off a couple projects he's been working on including an offline tool for digg users which he plans to unveil shortly and his crappy graphs site. This is the guy who figured out the secret of getting massive diggs for his stuff – write flash-based visualization tools for digg users. Josh Knowles showed off an app he made for the iPhone that allows him to control a keynote presentation on his mac from his iPhone – very cool. He's also working on an app for the iPhone that's similar to the Feelrz idea I submitted to Cambrian House. If he pulls that one off it has the potential to become absolute craze like Twitter. David Koontz showed off something he's doing with JRuby but honestly he lost me at "J" :-( Lorin Thwaits demo'd a pet project of his that makes it easy to find very large prime numbers. I still don't fully understand the utility of this but apparently the problem is important enough that the EFF is giving away $100,000 to the person that finds the next big one. You'll probably see Lorin on the Discovery channel next month… James Britt was able to get some insight that helped him solve a Google Gears problem. I showed off the Sentinel application I had written a few years ago to solve the issue for people who transact business internationally of maintaining compliance with the OFAC's SDN list. There were other demos but I had to leave early. But not before demo'ing a bomb-ass guacamole recipe (see picture).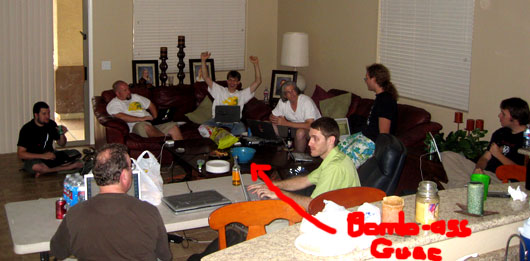 If you're a nerd in Phoenix you'll want to do a couple things if you haven't already:
Sign up for the next happening on September 15th at UAT. Ideally, sign up to give a talk and not just attend.
Join the Elev8AZ google group and help boost visibility of tech in AZ by keeping up with announcements and promo opportunities that can get local AZ people and companies noticed
This week begins the voting on SXSW panels. We've got handful of AZ people that have submitted talk proposals so be sure to vote for your local favorites.
If you haven't yet been to a Refresh Phoenix event come out this Tuesday and meet other nerds doing cool stuff in AZ.
And look for another Barcamp in the early December time range. You can monitor the RSS on that page to stay updated.
These events generate real ideas, relationships and even businesses. Thanks again to Derek for putting it together. If you're in Phoenix and complaining that there's nothing happening in the tech scene, there's no excuse not to be at one of these upcoming events.
3 Responses to "Phoenix Dev House"