How did Apple nail so many features of the iPhone and yet get picture messages so horribly wrong?
Right now when you receive a picture message via SMS on the iPhone you get an alert that looks like this: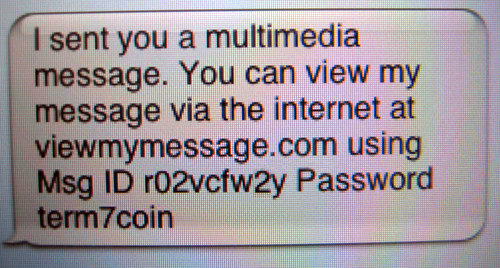 But since there's no copy/paste feature, you're apparently expected to hold the 9 character MessageID and the 8 char password in your head, switch over to safari, go to viewmymessage.com and type these in the form fields. I guess that's realistic if you're this guy but us mere mortals don't have that kind of mental swap space.
AT&T should just put a link in the SMS to retrieve the picture. It's no Treo experience like getting the pic immediately but it's a one-click retrieval step at that point since the iPhone automatically creates links for valid URLs in messages. And this method would be no less secure since they already put these tokens as text in the SMS now.
If getting AT&T's cooperation to fix this isn't an option, Apple could still solve it by the having the SMS app recognize and parse the MMS alerts that AT&T issues and create a dynamic local page that posts those variables. Either one of these would make multimedia messages tolerable on the iPhone- it's basically unusable now. I don't know how Apple is prioritizing their improvements – I know they probably don't expose that anywhere but it would be good if they allowed people to vote for fixes. BTW, Matt Assay has a good discussion of other iPhone brokenness. It's such a beautiful device but has some things that are conspicuously annoying. It'd be great if their calendar worked more like the Treo's and I still haven't figured out if/where it syncs data from the notes app to the Mac.
10 Responses to "Simple suggestion to make picture messages on the iPhone less broken"