I just got it.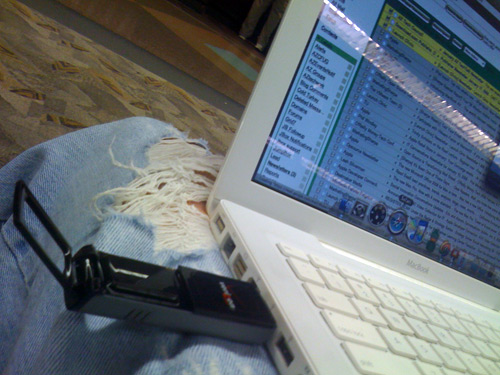 I've been on the fence about getting an edge card for us recently. The people at the Verizon booth at MacWorld were giving away the cards and waiving the activation fee today- that was enough to tip the decision for me. We are getting to the point where we need flawless connectivity at all times when we're on the road. The new version (USB727) supports their
Rev A network
and gets theoretical speeds of 3MB down and 1MB up. I'm on it now in the airport in SJC and here's the actual result I just got via speakeasy: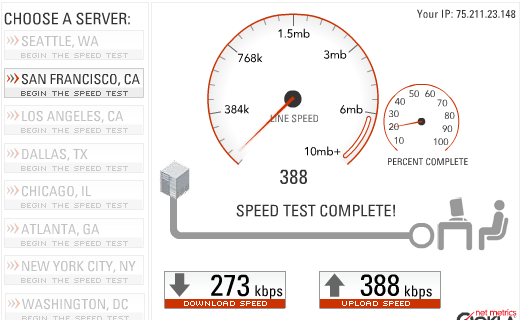 Not the fastest connection. I was getting 1MB down earlier today but even though the current speed is slow, I'm still stoked. It's a classic "
Innovator's Solution
" instance of "competing against non-consumption"- I'm thrilled to have any access right now.
The VZ Access manager software that comes with it was trivial to setup and it worked right off the bat on Leopard OS. It has some performance diagnostics built into it, although it appears to be over-reporting the speed according to the Speakeasy results:

All in all I'm very happy with this purchase. At $60/mo with 30 days to try it out risk-free and $175 to back out of the two-yr commitment any time after that, it's worth the price to me at this point to have guaranteed internet access wherever we go. I don't know how it compares to Sprint's EVDO network but I vowed 3 years back to never give those guys another dime. So far so good Verizon.
One Response to "The latest USB EVDO card from Verizon"