is still a smart friend who reads a bunch of feeds and has coffee with you once in awhile.
It's not Bloglines (though, Mark Fletcher, you are my hero). It's not Google Reader with it's dominant market share. Newsvine, Thunderbird and Newsgator… negative ghostrider.
We were talking about this on a walk yesterday- if you're like me you'll go through cycles where you purge every feed you're tracking. Over time you slowly accumulate new ones feeling like you might be missing out on important developments until you realize you're under water again in a noisy sea of posts ignoring 90% of them anyways. So you prune everything back- the veritable "binge & purge of RSS consumption."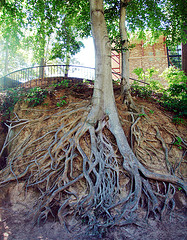 The happy medium I've ultimately settled upon is to follow a small subset of blogs and a few news sites and look to a handful of respected individuals and groups for awareness on important industry developments. RSS was a great invention to amplify one's ability to track stuff of interest from a bunch of disparate sources- the first layer of amplification was centralizing all these sites into one reader. But the next layer of amplification is learning to rely upon trusted experts in the various fields of importance to filter the noise, synthesize the relevant info with their own expertise and share the important insights in person (and ideally, in a group of experts). Like roots of a tree that continuously branch for maximum surface area and absorption, this is why groups like Refresh are hugely valuable and why hubs of face-to-face casual interaction like Google campus and the coffee shops in San Francisco are such hotbeds of innovation.
4 Responses to "The best cross-platform RSS feed reader"