Exactly one month to the day from arriving in the Bay Area, I pulled in an hour ago to my driveway back home in Tempe. What a month! The pictures from the trip say more than I possibly could in a single blog post. I met a ton of wonderful people in the Bay and made some great connections for our company. Here's some stats from the trip that are interesting:
total distance traveled = 2987 mi
gas consumed = 166.558 Gal
total trip expenses = $2078.32
# days on the road = 31
business cards collected = 32
unique beds/couches = 17 (including a garage floor ;-)
total spent on hotels = $124
total spent on parking fines = $170
# of Executive Summaries sent = 22
# of VC funding sources pitched = 7
value of the advice, visibility, contacts & goodwill generated for JumpBox = incalculable
All told the trip cost a hair over $2k (which was way under budget). I want to personally thank all the people that went out of their way to give me a meal, a pillow, a piece of advice or an introduction to a valuable contact – the trip would obviously not have worked without the generosity and hospitality offered by these people. In chronological order here are some people that get a shout-out:
Christopher Birdsall – for a pit stop at the halfway point in LA
Scott & Sarah Yancey – for their repeated hospitality and their spectacular rooftop office
Ben Flajnik & Corey Marrs and their roommate Justin – for a comfy garage and access to do laundry ;-)
Francine Hardaway – for a fantastic intro and access to her beautiful house in HMB
Robert Scoble – for letting me be on his Podtech show as a guest
Andrew Hyde – for being on our podcast and putting on a killer startup weekend in SF
Tony Jeffries – for all the key intros and drinks at La Bodeguita
Josh Margulies and his fiancee Liv – for an aerobed and many connections (congrats on your engagement!)
Jen Margulies – for 2 critical intros (happy birthday!)
Mark Fletcher – for meeting with me and sharing entrepreneurial advice and a helpful contact
Jay Margulies – for critique on our exec summary and letting me partake in two family celebrations
My brother Connor – for hooking me up with a place and fixing my Quickbooks issues (happy 30th!)
The Carroll family – for allowing me to join the family on Thanksgiving away from home (RIP Pop Carroll)
Jen Behan and her family – for round #2 of pumpkin pie and a warm home on a cold Thanksgiving night
Tom Jackiewicz – for a thermarest and a stellar selection of connoisseur tequila
Jasmine Antonick – a key intro to an important connector
Debbia Landa and her crew – 2 intros to solid funding sources and a wonderful meal
The Hamilton family in Newport Beach – for a crash pad and a family feast at the end of a long trip
To these people my couch and home are yours anytime. More on some of the many things I learned on this trip in a later post. For now, I'm really looking forward to my own bed. Here's a cool video I shot yesterday while driving back down the coast on Highway 1:

And here's what a month's worth of receipts and business cards looks like ;-) G'night.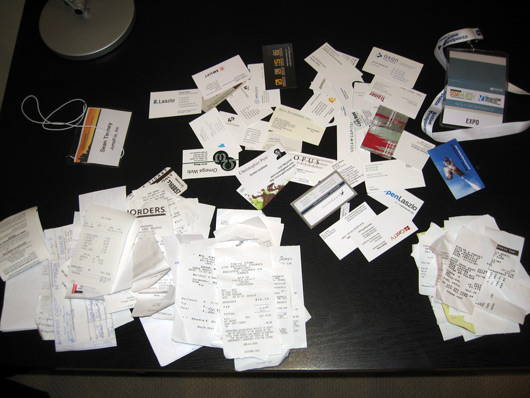 One Response to "Recap of the Great SF Roadtrip"