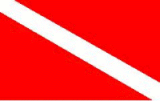 The bubbles cascading past your mask at that depth sound like glass beads clinking together. My friend and I just got back from San Carlos Mexico where we just completed our open water scuba certifications. I posted pics and two videos. The night dive and swimming with sea lions were the two highlights for me. A couple things that would have been good to know in hindsight for anyone who's considering doing it:
Contrary to what the study book says, decongestants are apparently no longer contra-indicated before diving. I didn't have ear troubles but my buddy had problems clearing the first day and she took a decongestant the second day and had zero trouble after that.
They make water-tight plastic cases for most digital cameras that let you take your existing digital camera underwater to great depths (~130ft). I have the Canon SD 550 and I could get one of these and take it under water. The disposable underwater cameras you buy at the drug store take fair pics but are only rated to about 30ft, can't do video and after you pay developing charges end up costing about $30. If you plan to dive a lot, you don't need to buy a fancy underwater camera- just one of those cases for your digital camera.
A hammock would be money the boat. SCUBA is an extremely mellow experience underwater and then you come back up and it's equally relaxing hanging out on the boat in between dives. The only thing that would have made the boat time even better would be to get one of those cheap nylon hammocks and string it up. Granted, it totally depends on the boat and the size of the group but this is something that would have made an awesome addition.
If you're in AZ and thinking about learning to dive, I highly recommend the good folks at Ocean Planet SCUBA– they were extremely knowledgeable in the water and fun people to hang out with on the surface.
3 Responses to "What does the ocean sound like 100ft below the surface?"