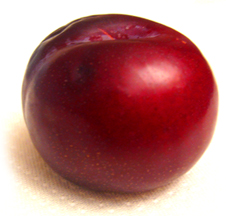 I was just thinking plums are completely under-rated. I just had one and it was delicious. But when was the last time you heard of a dessert with a plum in the name? Think about it:
Strawberries get shortcake
Bananas get splits
Blueberries get muffins
Lemons get meringe
Apples get fritters (whatever those are)
Cherries get pie and to be on top of a lot of other desserts
Peaches get cobbler
Oranges get juice
Even limes get keylime pie (i would never think to make a pie with limes)
The list goes on but plums get zero. They're like the ostracized fruit of the produce section. If anyone has connections at a supermarket we should seriously try to hook plums up with some affirmative action. Or at least lobby to get them featured on the Iron Chef or something – I bet those guys could make a kickass pie with plums if we just gave 'em a chance. Buy a plum next time you shop and throw it on some ice cream, you will be amazed.
What other fruit do you know of that's neglected?
13 Responses to "Plums get no love"