We held the first ever Barcamp Phoenix event on Saturday at the UAT and drew a crowd of about 40 at it's highest peak of attendance. It was an unstructured, participatory event in which we collected a bunch of potential tech topics, triaged them and then assigned a moderator. We chunked them into 15min quick sessions and flashed through them- any people wishing to delve deeper after the time limit were free to wander off and form a break-away session. All in all, a very positive event and proof that useful conferences don't require massive preparation and strict schedules and agendas to be useful. Here's the whiteboard of topics we came up with – the checked ones are the ones that we covered: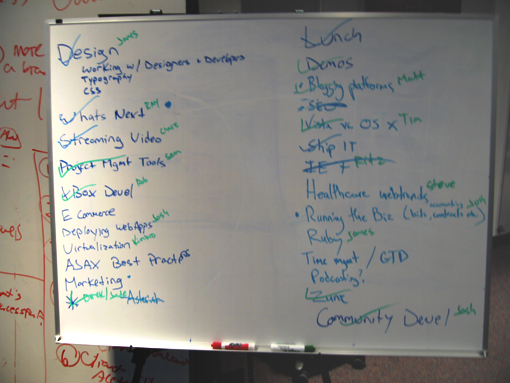 Chris Tingom posted a rundown on his blog, a couple others have posted flickr photos. and Erica Lucci posted extensive notes on the day. You can bet there will be another one of these events again. As far as what we learned about logistics in running things- it's decentralized so there's no set tracks or authoritative figure but at the same time, somebody needs to take charge and move things forward when a topic is exhausted. Doing 15min fly over sessions and allowing people to break off and dive deeper is a good approach- our group whittled down to about 25 so we all stayed in the big auditorium as one unit but factioning into smaller breakouts would be sensible at the next one when there's a larger crowd.
Keep your name on the wiki page if you intend to come to the next one. There was a company there that was capturing the video and projector demos by intercepting the VGA feed. They promise to post the sessions they captured once they're produced and make them available via the Barcamp wiki. Thanks for everyone that attended. See you at the next one.
One Response to "Barcamp Phoenix a success"