Disclaimer: I have zero scientific evidence to substantiate this theory. It's subjective and anecdotal from my own experience and based in part on the concepts proposed by Tony Buzan in his Mindmapping book. Although I have no proof, I have seen it validated consistently through personal experience.
So why use a "tree-branching" style vs. a traditional outline format when brainstorming or note-taking? Very simply: because the conventional "indented outline" format of note taking imposes false linearity on your thought process . And what could be more important than having unbounded thinking when brainstorming or capturing notes on a new subject (I'm hereby banning the use the term "outside of the box" thinking). The Buzan book is the seminal work on mind-mapping and goes through a lengthy explanation of why and how to do it. I won't rehash all that here but the main idea is that nature itself is not linear. Imposing a format on note taking which demands that we add new items sequentially to the outline funnels our thinking down to the last item at all times so that when we write this:
our brain is really seeing this: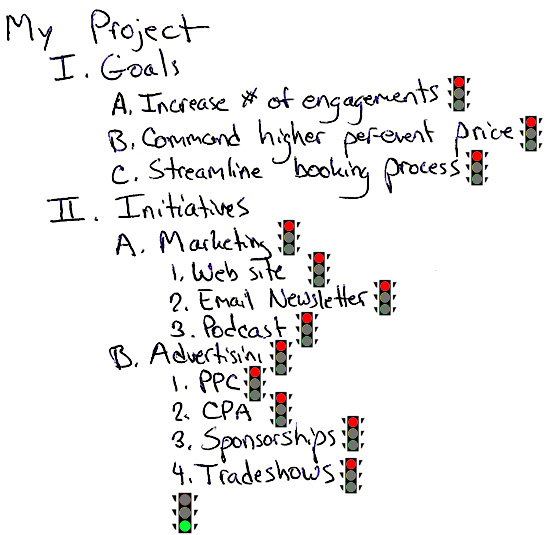 Using the alternative mindmapping technique, we can represent the same information like such:
And now our brain is instead seeing this: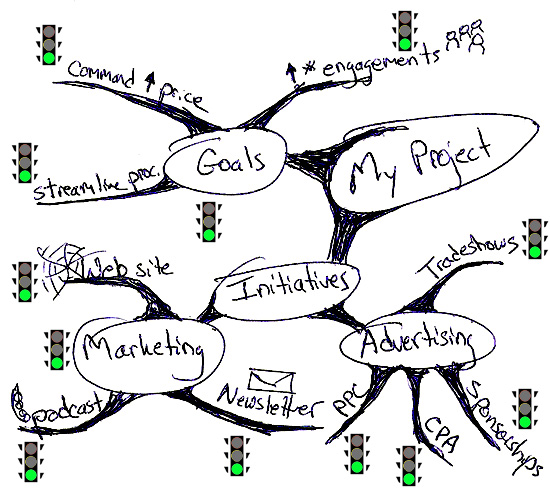 …which is good because we inherently like to fill in all the blank spaces and grow the tree so now rather than have the compulsion be to stop thinking about additional ideas, the path of least resistance is for our brain to continue to add to it. And once that spiral begins, tangential thoughts spawn from others and you start to get light bulbs. At least that's the gist of why I believe it works. Granted for proposals and formal documents where the expectation is a more traditional representation, mind maps may not be appropriate. But at least the first time you begin thiniking about a subject for your own notes you should not be trying to cram the info into an outline. Doing so just because your fifth grade elementary school teacher told you it's the proper way to outline a subject is pointless. Instead of getting hung up on where to use roman numerals vs. arabic vs. capital and small letters to ensure proper structure, we should be thinking how to remove the structure altogether from the notes and let them flow and grow organically.
The other benefit aside from improved creativity at the time of conception is greater retention and recall down the road. Try this test- look at the first outline above for 10sec and then go to a blank sheet of paper and write as much of it as you can remember. Now try the same experiment with the mindmap and see how much of it you were able to recall. The effect is amplified when you are the one generating the mindmap because you personalize it. The more doodles and weird stuff you make, the more visual your map becomes and we all know that "a picture is worth 1000 words."
It's one thing to read about mindmapping and say "hrmmm, that's interesting," but until you actually start doing it, it is just apriori book knowledge and you won't fully appreciate the technique. As far as software, I can't endorse any particular one as being better. I use one called Visual Mind and my friend Dave uses one called Mind Manager. There are no less than ten packages out there that all do the same thing and there are plenty of opensource options available and most of them can export the maps to XML and some integrate directly with wiki's and pda's. The best advice if you're not mindmapping yet is to just try doing it and see if it doesn't FEEL like "mentally cleaning the windshield" when you do exploratory thinking on a subject.
9 Responses to "Why mindmapping works"