With the miracles of modern technology, this morning at 35,000ft I was able to get a full install of Fedora Core 3 running on my new laptop under Virtual PC. This Inspiron 9300 I got is nothing short of amazing- i tricked it out w/ 2 GB of RAM earlier this week and w/ the 2.0 Pentium M chip, this thing just smokes. Hats off to Virtual PC too – this program is amazing, software that can emulate a machine to the point where the installed OS THINKS it's running on a real box. I got to thinking about the possibilities of virtual pc's running other virtual pc's but it became a bit too "malkovitch malkovitch" in trying to grasp the existential implications of this type of virtual recursion so I let it go and screw around with linux instead.
The Fedora install is part of a larger goal I have right now of getting Subversion source control running first locally on my laptop and then on my buddy's linux box. I will say that getting Fedora on VPC is not without its headaches- first you gotta get the ISO's which are a full 2.3GB in all. I found this torrent tracker hosted at Duke University and was able to use BitTorrent to get about 250Kbps on my cox@home connection. Once you have the ISO's, you can walk through the wizard for creating a new virtual machine in VPC. You then use the CD > Capture ISO option to fool the virtual machine into thinking it's got the CD-ROM in its drive. So far so good- the rest of the Fedora install is very clean and they have a nice GUI wizard interface to customize it for your needs. There is one major hack however you must apply to the kernal in order to get it to recognize your monitor. The first time I went through it, it installed flawlessly but when I rebooted it threw an error saying "ID 2 Respawning too quickly – shutting down for five minutes." After some serious digging in various forums I found this post that contains the necessary set of instructions (56 individual steps in all) to get it to work (and I can confirm that it does in fact work). The crux of the issue apparently stems from the OS's inability to recognize the monitor of a virtual machine, you have to explicitly set this using some linux commands and installing a kernal modification. Once that was done, the intstall worked perfectly.
On another note, tomorrow is my brother's wedding. I'm sitting here in my room at the Marriot in Monterrey watching seagulls out my window (which is an absolute novelty for us Arizonans) and trying to come up with a creative slideshow that will embarrass the hell out of him at the rehearsal dinner tomorrow night. I snapped this pic on my treo and stored it to the SD card: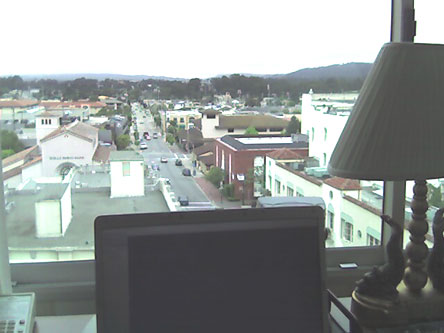 What's cool is my laptop has a built-in SD reader so transferring pics is simple- you pop in the card and it runs a quick sync tool and maintains a folder on your harddrive called PalmOne that has everything your card has. From my room I can see no less than twelve separate wireless networks on my laptop (about half of which are unencrypted) but apparently all have mac address filtering turned on or are just too weak a signal as packetloss is about 75%. I have this nifty program called PDAnet for my treo that turns it into a modem for my laptop. It gets decent speeds too (about comparable to a 56k modem) and I hear the Sprint network can do about twice that (I'm on Cingular). Anyways, I will definitely post my experience in getting Subversion to work as it seems like quite a process from their site. Looking forward to this weekend. In a span of three weeks it's been Connor's bachelor party, followed by my 30th b-day, followed by his wedding – June is shaping up to be a month of detox for sure!