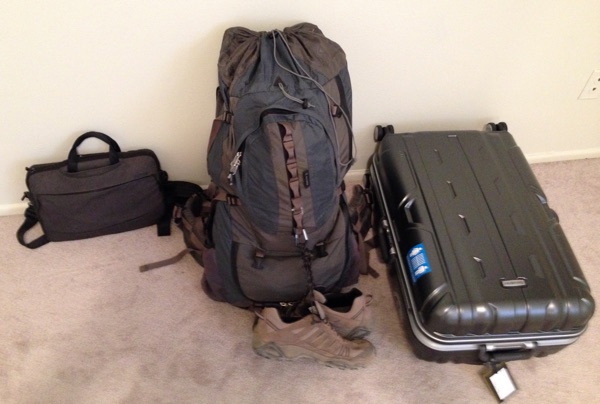 These bags are the sum total of my belongings for the next year. I'm hours away from departing for Prague and beginning the first leg of a 12-part journey that will take me across four continents, ten countries, twelve cities and all in twelve months. I couldn't be more stoked.
"Go confidently in the direction of your dreams" is actually a misquotation of a passage from Thoreau's Walden but it feels appropriate. I've dreamed of traveling the world and growing startups – I just never thought I'd get to do both at the same time.
So I'm going to do periodic video updates like the one above in each city we visit and try to capture some of the local flavor of the town we're in. You can see our itinerary here. I'm also going to write a monthly email reflection from each city as we depart to distill my reflections, observations and learnings. I'll include not just local cultural stuff in these emails but every digital nomadic workaround, business lesson and marketing hack that I'm using to be effective from the road. I'll also share progress towards my goal of doubling the revenue for Pagely in 2016. This is an aggressive goal but one we're on a trajectory just barely under currently. I have some tricks up my sleeve I'll be implementing over the coming months while we scale our sales force and growth efforts – this whole thing is an adventure on multiple levels.
If you'd like to ride shotgun with me for this next year of adventure and follow along, I invite you to join over 400 others who have jumped on my email update list below. It's going to be a wild ride and I hope to share all of the good, bad and the ugly with my friends and colleagues who want to participate.
Lastly, I want to say thanks to my folks, my close circle of buds, my employer & friends, Josh & Sally and everyone else who has been supportive and encouraging of this undertaking. Words cannot express my grattitude. I love you all. My next update will be from Czech Republic. Adios.
One Response to "Go confidently in the direction of your dreams"