It's been a 2-year writing hiatus for me. I used to post multiple times per week and had an endless supply of ideas, techniques, observations and insight to share here. And then something happened one day and that inspiration evaporated. If you've ever experienced writer's block you'll know the heartache of wanting to swim back to that space of creativity and flow but being too tired to do so.
I've reflected a ton on this period. For the benefit of anyone else in the same position I'll try and open up and share what I believe to be the source of my writer's block and what is slowly chipping it apart and restoring me. I believe it was a confluence of burnout from a company I started eight years ago along with due to overwhelm from tweet-sized social media blurbs. I started this blog end of 2005 and wrote faithfully here for the next seven years. To date it's seen half a million visitors and served 3/4MM pageviews: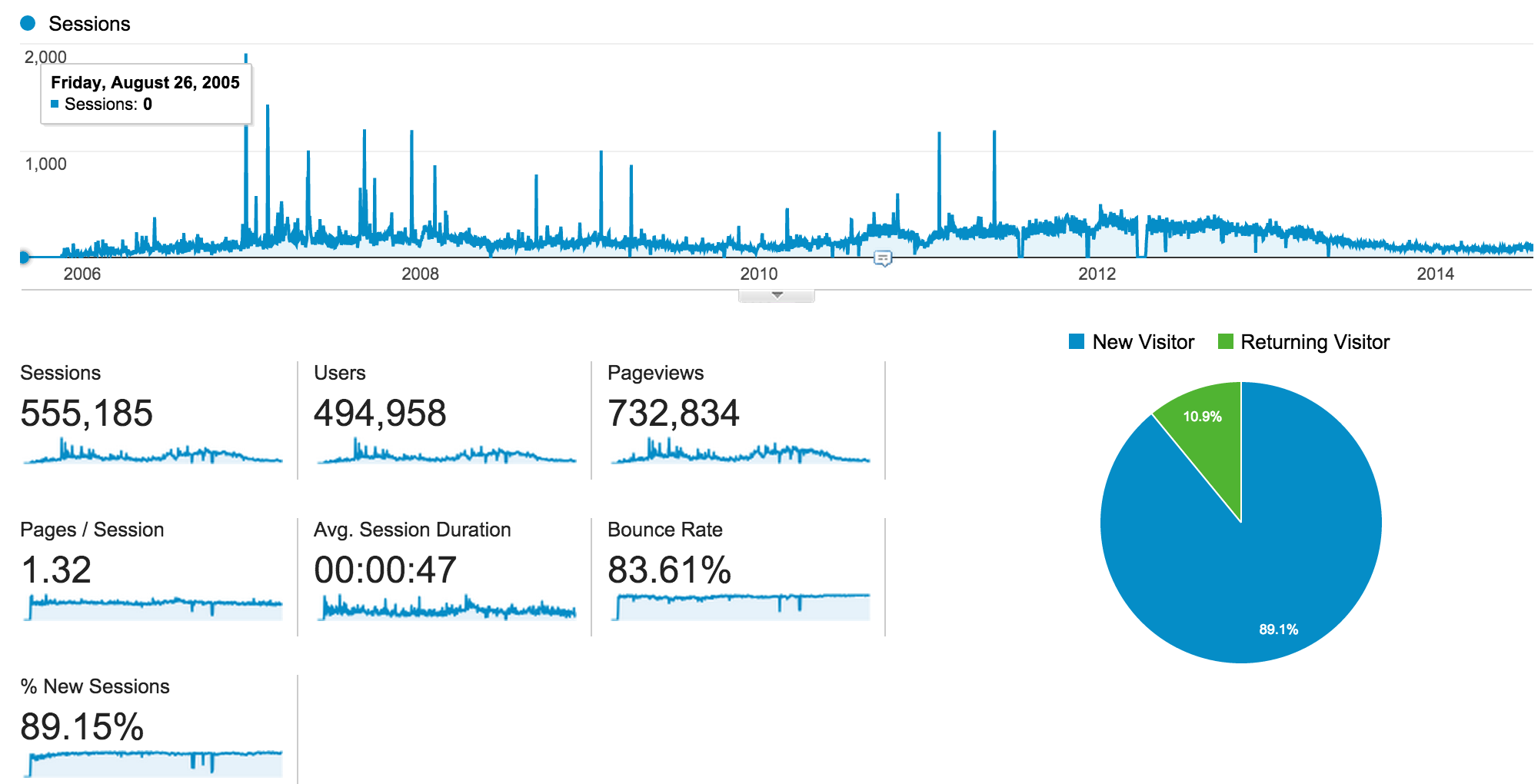 I've made friends because of it, poured hundreds of hours of thought and energy into distilling the stuff I've learned and endeavored to make powerful concepts more accessible to others. I've shamed a few bullies for nefarious practices, given extra exposure to people and companies I love. And in the end, I've enjoyed writing because it clarifies my thinking and gives me perspective. With this blog being such a positive force in my life, why did I stop? Let's dig into what happened and look at what's resuscitating my writing…
Straight up: I failed in my duty as CEO of JumpBox to make that company work. After a seven year run my co-founder and CTO left abruptly and the company was in imminent danger of a shutdown. I don't blame my co-founder for leaving- his was a Sisyphean task to keep that company alive given the surface area of the technology stack and the nature of the challenge making 50 different OSS apps stay updated and working in any computing environment. It remains a difficult challenge in the hands of a good friend who miraculously made a diving catch in the 11th hour and saved the company. And oddly, you'd think I'd be thrilled that the company was rescued but instead his incredible skill at saving it had the unexpected byproduct of creating resentment in me for highlighting my inability to do the same. That created a whole unanticipated negative spiral of emotion. My friend and I have since mended our friendship but the experience zapped my reserves after JumpBox. And yet even the consternation from that isn't what created the writer's block…
I do a bunch of stuff. My friends think I have ADD because I run four different user groups, help mentor at three incubators and speak on panels when asked. I launched a volunteer effort called Charity Makeover this past year as well as an "Ocean's Eleven talent experiment" called Automation Gurus. So I'm all over the map with my attention spread admittedly across too many endeavors. Having come to the place of being moderately respected as an entrepreneur in Phoenix I realized the businesses I had built weren't all that successful relative to where I want to be. And I began to feel like a charlatan for advising other startups on Lean, CustDev, marketing automation, strategy, etc when my own startup was floundering and on the verge of collapse.
Paralyzed by this hollow feeling of giving advice publicly but not feeling successful in my own ventures I withdrew from writing and speaking and began reading a bunch of books. But books don't break you out of that funk. Only getting back in the saddle and soldiering on does. Someone told me during this period "you don't have to be an Olympic gold medalist to be a good swim coach. Get back out there." So true. The epiphany for me was that I've been letting my own insecurity of having not yet hit a homerun company squelch perfectly valuable teaching and writing that I used to do that was helpful other entrepreneurs. No more.
One of the introspective exercises I've undertaken during this time has been Simon Sinek's "Why University." With the help of a few friends (thanks Courtney, Dave & Bryan) I've been excavating myself for my "Why." The "Why" (capital W) is your anima, your dharma and the essence of your being all wrapped in one. Paulo Coelho would call "your Personal Legend." You might call it your destiny or core essence. Whatever you call it, it's the raw uniqueness that you and only you bring as a gift for the world. I'm now questing actively to unearth my Why and all I know is it involves writing again. So I'm writing again.
My buddy Nate Stone is an incredible musician in Flagstaff. I met him a few years ago by coincidence and when I heard his music I got goosebumps. When I first met Nate he was getting over a similar period of writer's block (or more accurately "performer's block"). He said, "I felt like music was bullshit and none of it mattered." I know exactly where he was coming from.
I just a week ago made a move out to Newport Beach, California. I've been journaling privately for the past two months and getting the writing wheels turning again in private before coming back here to a resume a public form of journaling. I'm now working in Laguna Beach with a colleague and fellow ex-Infusionsoft certified partner to help artists be able to focus on their own Why's. Through Artiledge we're giving artists a way to defer the awkward sales component of their craft so they can focus exclusively on the creative aspects. We think this methodology we've developed will bring greater peace of mind to artists, bring art into more homes and unlock latent creativity and passion amongst one of my favorite constituencies: creatives.
The good news is having "kinked the blogging hose" for so long, I now have a TON of material to get out there and share. In the past two years I've learned a good amount about Customer Development, marketing automation, WordPress, survival skills, archery, kite surfing, running, game theory, stoicism, persuasion, negotiation and a bunch of other subjects. For my business-oriented writing follow @grid7 or subscribe to the Grid7 blog (do people still use RSS BTW?). I'll do the personal, non-business stuff here so you can follow @scrollinondubs or this RSS for that. And to watch where we take the Charity Makeover effort and Artiledge follow those sources respectively.
I can't promise there won't be dry spells going forward on here. But what I can promise is that I've come to realize very deeply the same conclusion with writing that Nate arrived at with music: that it DOES very much matter even when you're in that dark tunnel thinking it's all pointless. No matter the ebb and flow of success with the ventures I undertake I'm back for good writing here and squarely focused on my Why. I took this picture at sunset of the jetty that's a block away from my new place. For the people out there wrestling with mental gridlock and struggle in their endeavors, I hope you find the tranquility and fortitude to power through and get through the valley and on to the next peak. Talk soon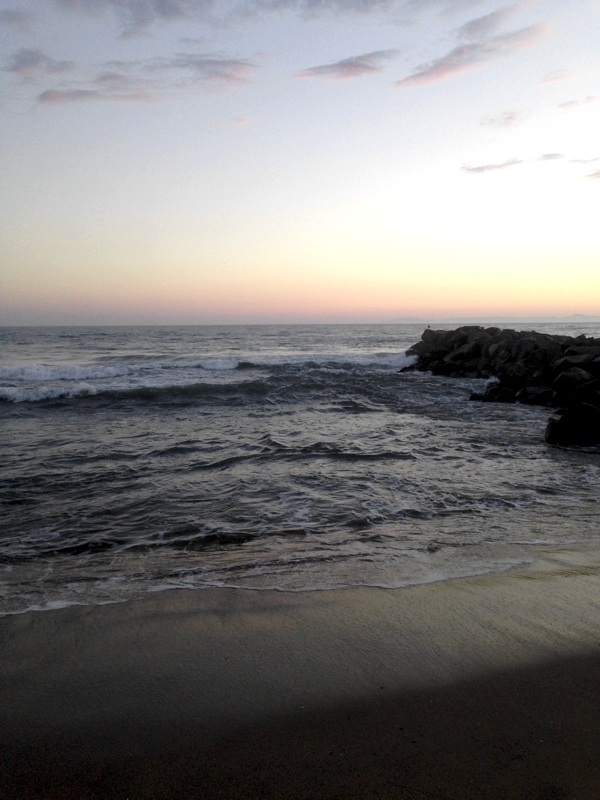 One Response to "Writing again"