This is a random observation while listening to some on a pair of good headphones:
We like to in hindsight attribute the success of disruptive products to practicality when in truth these products succeeded because they elicited some previously-impossible emotional experience in their user.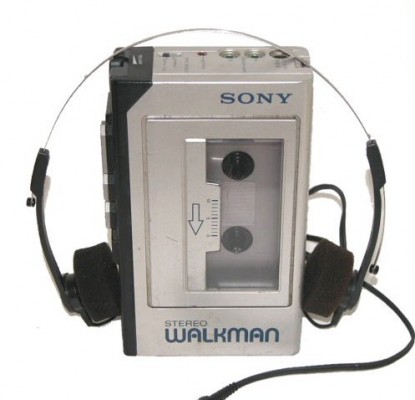 Here's the crux of the epiphany: When I was eight I got one of the very first Sony Walkman's (this is the closest pic I could find but I swear mine was even more old school). I had a bunch of teeth pulled right when this miraculous device debuted and my parents figured it would a good distraction to fill my head with music during the recovery period. This turned out to be a genius move on their part and worked really well. In spite of having awful pain from every corner of my mouth, this new incredible way to experience music trumped everything and transported me beyond the pain. Now here's why this is relevant:
Clayton Christensen (and by proxy many others) have cited the Sony Walkman in their explanations of disruption usually saying something to this effect: "The Walkman achieved disruption because it enabled young people to listen to music out of earshot of their parents for the first time." This is a functional/practical motivation (ie. listening privacy, facilitated quiet rebellion) and while it may partially account for its success, I would submit that there was a more fundamental emotional-based motivation: "it enabled for the first time the undeniably cool & irreproducible experience to have music originate from between one's ears." This is akin to experiencing dry ice, static electricity or pop rocks for the first time- it's just freakin' cool!
No doubt practical motivations overtake the cool factor at some point and most disruptive products with any longevity can't subsist indefinitely on coolness alone. But in the vast majority of past product success analysis from today's vantage point, the coolness factor gets way undervalued. The ubiquity of white earbuds now makes it difficult for us to imagine thirty years back to a time when experiencing music that originated between your ears instead of from external speakers was as untangible as anti-matter & black holes are to us today.
Anyways, there's no call-to-action here other than to observe that our "coolness bar" is perpetually raised higher each year and it's impossible to see those case study products via the same lens of wonderment we would have had at the time they presented. I don't dispute Christensen's ideas on disruption re: underserved markets, competing against non-consumption, etc. but I think we need as entrepreneurs to acknowledge the role of a more parsimonious "I just gotta have the music inside my head!" motivation in explaining the success of a product like the Walkman.
No doubt when Apple someday develops the ability to deliver any smell on demand via the appstore, we'll all run out and purchase an iSniff because "I gotta have any smell on demand!" And years afterwards the business historians will all concoct elaborate theories about the runaway success of this product explaining how we were economically-motivated and seeking to reduce trips to flower stores.
4 Responses to "Disruption, practicality & emotional neglect (or why the Walkman really won)"