A couple people have recommended I read the book The Black Swan recently. I'm only 40pgs in and already I have a serious issue with it. The picture below is a good summary of my gripe: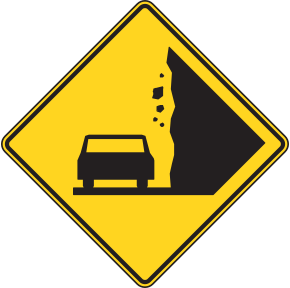 It's essentially like that highway roadsign that warns you of falling rock – it's useless advice. Since when has that sign ever altered your driving behavior? In fact it's worse than useless, it's presence is detrimental because it generates unnecessary worry and distraction without giving you any actionable info to be able to do something about it. It merely broadcasts, "
Yeah, so rocks might fall on you. Sucks."
Similarly The Black Swan appears to offer this as its core message:
Despite our best efforts to make sense of situations throughout history, inevitably a massive, random event at some point manifests and its unpredictable effects trump everything we knew previously.
Basically "rocks might someday fall on you. sucks" – a completely worthless and defeatist message. And yet somehow this book has won a bunch of praise as being insightful. I'm not sure if the author is advocating that we stop applying science to attempt to understand current situations but that is a message that one could infer.
I've admittedly only read a sliver of this book thus far so maybe the author eventually gets around to offering some type of prescriptive advice. But at this point it appears to be a pop psychology wankfest (and a verbose one at that). At least books like "Tipping Point" and "Blink" had concise writing and referenced interesting psychology experiments to yield conversation fodder. This one appears to be entirely devoid of both. Somebody who's read it and found it valuable – what did you take from it that was useful and how has it changed your behavior and how you think?
4 Responses to "My problem with The Black Swan"