There's a little startup I have a special affinity for having been in the room for its inception at the LA Startup Weekend event, standing feet away when now investor Ashton Kutcher was first pitched. I had a chance run-in with the guys weeks later in a cigar smoking circle outside their RV at SXSW right after they landed $1M in seed funding. And I then got private beta access to their app at SXSW to try and solve a last-minute challenge we had in running our launch party for Scratch Audio.
The best way to understand what Zaarly does is to go to Zombocom and substitute "Zaarlycom!" They're basically a hyper-local, real-time want ads site with no limitation on what you can ask for. Here's why this is so cool:
There is no limit on the potential market cap for this company. Like eBay and Craig's List, Zaarly stands to create an enormous ecosystem that will enable countless people to earn a living (and a few smart ones to become extraordinarily wealthy) by finding ways to expand the market and make it more efficient.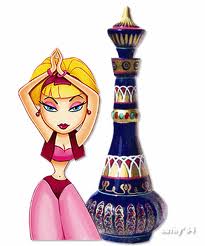 eBay and Paypal are so entrenched because they became core pillars in enabling others to make money. Zaarly will do the same only it will sit at meta level above each of these specialized devices essentially being this master clearinghouse of desire. In the process of making a ton of people rich, they are also going to provide a powerful secret weapon for those who understand how to wield it. Basically it's like having your own personal "genie in a bottle" that you can pay to solve any issue for a price you name. Provided you know the value of solving the issue, you can at all times troll for a solution at a pricepoint which is profitable to you.
Need to get 300 mimes in El Paso by Friday? There's a price for that.
Need to create and distribute 100,000 wristbands with your company logo to every fraternity member in the US? There's a price for that.
Need midget geologists to sneak into a cave in mexico and perform ground-penetrating radar analysis, have it interpreted and translated into Swahili and display the results in skywriting over Chicago? There's a… you get the point.
Sharp college kids are going to find ways to make money on the spread between asks on Zaarly and the infinite fountain of ways they can fulfill the requests. CS students will invent scrapers that check eBay, Oodle, Craigslist, etc in realtime for items sought by Zaarly'rs and they'll broker the transactions and capitalize on the arbitrage. Entire businesses that were heretofore not feasible will be enabled by the existence of this tool. Zaarly is one of those simple business ideas like Groupon that people a few years from now in hindsight are going to kick themselves for not having thought of.
One of their other investors Naval Ravikant is a guy whose writing and speaking I've followed for awhile now. Knowing how he thinks and his affinity for econ, game theory and market efficiencies, he has to be giddy over the possibilities on this one. I was admittedly lukewarm on this at Startup Weekend but now that I've had the chance to ruminate on the implications for all the side businesses this is going to spawn, it's genius. Every pawn shop, scrappy college kid and CL/eBay lifer is going to be all over this app. I can't wait to see how things unfold.
The icing that actually tipped me to write this post was hustle they've shown in organically generating buzz the way Noah Kagan would advocate. A guy on their team (having no idea that I knew them already) reached out to me having found me via a tech-focused meetup I run in Phoenix. This is how you create a "root system" of buzz: focus on the pressure points and have one conversation at a time.
The UI for their app is gorgeous. The business potential is limited by imagination only. The team is legit guys. Their marketing plan is enlightened. And if/when this works its success will be a shining trophy and an amazing advert for the Startup Weekend event itself. I am long on both Zaarly and Startup Weekend.
Sign up for their beta – I understand they're targeting a launch for early-mid May. This is definitely going to be something to investigate when it comes out.
Full Disclosure: I have zero financial ties w/ these guys. I just think they rule.
5 Responses to "The unattainable is unknown at Zaarly.com!"