I love Google Voice. We use it as our main office line at JumpBox and it gives us a lot of flexibility in handling the phones. We can setup call windows for business hours where it rings my cell during the day and goes direct to voicemail in the evenings and on weekends. We get transcribed emails for each voicemail so we can quickly skim the content before listening to a long message. And we can very easily re-route calls to a different phone if I'm out for some reason.
But there is one feature that is so conspicuously absent that either I'm fundamentally misunderstanding the service or it's a major oversight in how it works. The quickest way to explain the issue is to show what I want added to the voicemail interface (circled in red):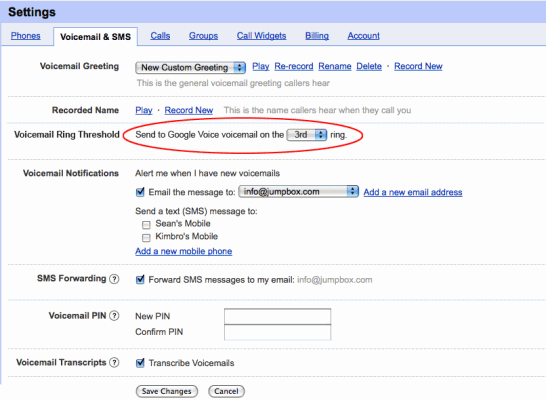 The current problem is this: if Google Voice rings my cell phone and I miss a call during the day it goes to my AT&T voicemail. That's problematic for a couple reasons, namely: 1) I'm the only one with access to it 2) the caller gets a personal greeting from me instead of the expected company message 3) it fragments where our messages are stored into two places 4) we lose the nicety of call transcription.
The ideal solution here would be to have a threshold setting I can configure so it recognizes when I don't pick up by the 3rd ring, takes the call back and re-routes it to the GV voicemail.
Is there some obvious setting I'm missing to make it behave this way? If not, Google peeps: this would be a hugely valuable / simple feature to add. I have to imagine others face this situation and could benefit from it.
9 Responses to "A simple feature request to make Google Voice vastly better"