If you're like me you have a janitor's key chain with twenty things on it. At least once a week I set off the panic alarm on my truck by accident because one of the gadgets on my key chain presses the button. In fact the only time I ever intentionally use the panic button is when I'm trying to locate my truck in a parking garage. But I've realized I can get the same honk and light flash by clicking the arm button twice and since I rarely panic anymore I now have zero use for this button. Here is the trick I came up with this evening to eliminate the annoyance of accidentally triggering the alarm:
Step 1 – Take the backing off your alarm remote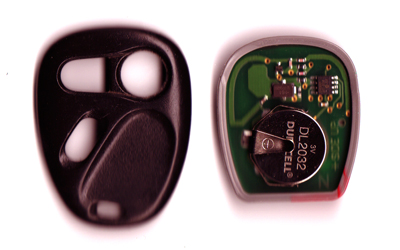 Step 2 – Remove the circuit board from the rubber button piece
Step 3 – Rip off a tiny piece of paper and stick it between the button and the contacts
On these cheap remotes the button is not pressure-sensitive, it's activated when the metal on the rubber piece closes the circuit. By putting something in between the contacts you prevent the circuit from closing and you can take the paper out if you ever decide that you need the panic button to work again. A non-destructive, 30sec fix to a weekly annoyance. It's the simple things right?
35 Responses to "How to disable your car alarm panic button non-destructively"