Here's a strange Friday thought:
Parking Meters are like gift certificates in that there's always "breakage" one way or another.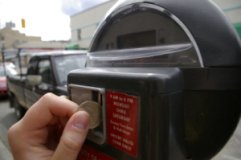 If you think about it, you always end up either putting in too much money and leaving change in the meter when you drive away, or you make the more costly mistake of putting in too little and end up getting stuck with a parking ticket because you short-guessed it. The optimal payment to a parking meter is just enough money so that it expires right as you return to your car. Any other situation and you're getting hosed.
Where there's inefficiency there's room to innovate and capitalize on the arbitrage. If you live somewhere where you are using parking meters frequently, would you pay $20/mo for a subscription to a service that ensured you never got any parking tickets and always optimized your payments to deposit only what was necessary to the meter while you used it? There's a right answer here because you would know a month after using the service whether it was saving you money or not. If you use the meter twice a day and this service saves you from even one parking ticket or from wasting enough change each time from over-paying, it would be worth it.
I have no idea how to best automate this and it's in the municipality's best interest to not optimize this here- they win the more breakage there is in this situation (whether it's through extra change left in the meter or through parking tickets). Affixing some device to all parking meters would be costly not to mention illegal due to tampering with government property. It would most likely not be cost-effective to have low-paid bikers with change purses being texted with instructions on where to deposit money either. I'm not sure the winning implementation here but there is absolutely an opportunity to middleman this situation and capitalize on the parking meter inneficiency problem offering a service that would save people money- the question is if you could do it in such a way as to be profitable. Estimate the number of meters in the world and the money wasted on each one on an average day and you have a fairly attractive market cap…
10 Responses to "Parking meter arbitrage"