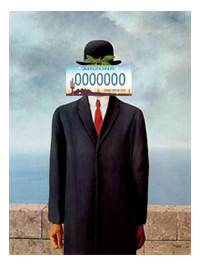 What I'm proposing here is nothing short of the worldwide Vehicular Thomas Crowne Affair.
I hate photo radar. Hate it. And it's not because occasionally I drive too fast and get a ticket. It's because the city prostelitizes it as being a safety measure when in truth they're using it purely as a revenue-generating tool. Last year in Scottsdale after only six months of installing speed cameras on the 101 highway, the city issued nearly $3MM in tickets… that's just absurd. It didn't make anyone drive slower. What it did was cause car accidents because inevitably some of the cars in traffic would hit the brakes as they approached the zones where they knew the cameras were. With a random fraction of the cars sporadically slamming on the breaks without warning, it's no wonder that stretch of highway became one of the most dangerous in Arizona. Ultimately the City put an end to the experiment and pulled the cameras off the 101. Intersections throughout the Scottsdale still have red light cameras though, and the same problem exists- motorists become more concerned about avoiding a photo radar ticket rather than driving safely.
So if the challenge is how to defeat the photo radar cameras, you have a few options:
You can obfuscate your license plate with a reflective spray or the little plastic shields that affix to your plate and make it difficult to read when the camera flashes. Those are banned in some states because they make it difficult to read the plate at night and worse for you the motorist and having one of will start you off on the wrong foot with an officer in the event you get pulled over.
You can buy a radar and laser jammer to foil the speed-sensing mechanism on the units by disrupting the radio and light waves that bounce back and measure your speed. These devices are also illegal in some municipalities (especially if they employ active jamming techniques). Even if they are legal in your area, they too start you off on the wrong foot with a police officer.
You could always get a paintball gun, be the defiant vigillante and goo up the cameras rendering them inoperable. This was actually happening in Scottsdale for awhile. Defacing city property however is against the law and this will get you fined if not thrown in jail when you're caught. Plus it's not a reliable or sustainable way to deal with the problem.
You can accept the fact you're getting ticketed and employ tactics like overpaying the fee to try and muck up the collection process once it's issued. Also, because the ticket is not a certified, receipt-requested letter, you can ignore it and claim it never arrived. They will of course try to serve the ticket in person so be prepared to not answer your front door if you're using this approach.
Assuming that abolishing photo radar via policy is out of the question, you can get creative and think about the series of events through which these tickets get to you and approach the problem differently.
Think: How does the ticket find its way to you? the camera snaps the photo… someone has to look at the pictures and reference that plate number to a plate in the system… then that person mails the ticket to the address on file. Without physically altering your license plate to obscure it, how else could you make it difficult for that person to send the ticket? Simple:
Order a vanity plate with a bunch of characters that are confusingly similar in appearance.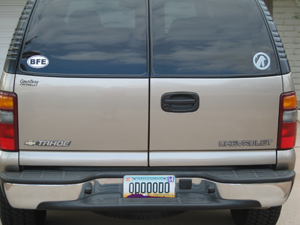 I just got my plate from AZ DMV and happily installed it this morning. It can still be read by the keen eye but from one of those crappy photo radar pictures it will be a non-trivial task to make out the characters. There aren't many grey Tahoes in AZ that have a plate seemingly with all zero's so with any amount of research effort the examiner could probably figure it out. But much like The Club causes enough of a nuissance to deter the would-be thief, this technique should cause the would-be photo examiner to pass over your ticket. And the more people that have plates with permutations of 0's and O's and D's, the more difficult their task becomes: a veritable real life Vehicular Thomas Crowne Affair.
Is this civil disobedience? Perhaps. Is it a healthy thing to challenge the system when it sucks? You bet, especially when Scottsdale City Council has proven that all but one member is utterly incapable of performing their job (which should consist of listening to the citizens they supposedly serve and ensuring their concerns are addressed). You can go out and try methods #1-4 or you can abide by the current rule set, use your head and practice passive resistance. I propose the latter and suggest this tactic as a meme in order to send a message to the City of Scottsdale and other municipalities about how f'd up their financial printing press (ummm, I mean photo radar system) is. Research in Europe has already demonstrated that less signage, regulation and distraction makes drivers more aware of their surroundings and, consequently, more safe on the roads. The city needs to either admit that photo radar is a revenue-generating tool or do away with it. Period.
In Arizona getting a vanity plate takes $25 and all of about 5min to order online via this page on ServiceArizona.com. The plate arrives in the mail six weeks later and you swap it out. Done. You do have to specify the reason why you want that particular sequence of characters – I would suggest "Vehicular Thomas Crowne Affair." Most plates have up to seven alphanumeric chars. Using O's, 0's and D's there are a total of 2187 possible permutations for each state. Get your plate while it's available! If you dig this technique, then digg this technique.
UPDATE 1/6/07: so this post has generated quite a local media frenzy while I was away on vacation. It made the Reddit homepage then was referenced from a Tribune article, TheNewspaper.com, and then yesterday Channel 3 and ABC Channel 15 interviewed me. I'll be on KFYI talking about photo radar and the controversy of defeating it via this method and why I think it's justified. I have not yet read the study on the 101 – if anyone knows where it can be found I would love to see the results and more specifically how it was conducted and how the researchers are interpreting the data. Call in to KFYI tonight at 7pm and chime in with your piece to take part in this discussion- I don't see the phone # on their site but listen on AZ AM 550 and I'm assuming they'll announce it. Thanks for everyone below who took the time to voice an opinion. From the comments below it's clear that people have strong opinions one way or another and it should be a lively discussion.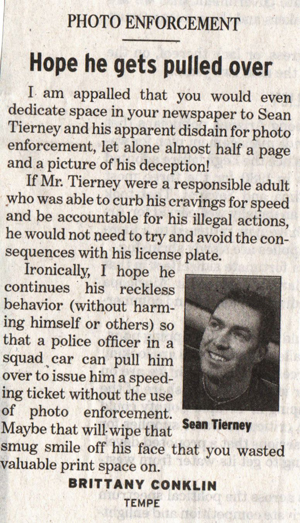 UPDATE 1/7/07: big thanks to Roberta Gale of KFYI for having me on her radio show last night. And here's a salty op-ed piece from the Tribune. Betty Conklin clearly needs to switch to decaf and check her facts- a 16yr driving record with one ticket and one accident is hardly reckless.
This concludes the experiment. I registered the JumpBox vanity plate and will retire the OD00D0O plate when the new one arrives. It was never about evading the law or shrugging responsibility. It was about calling attention to photo radar and encouraging people to protest it. I have confirmed my suspicion before ever testing it on the road- the registration they issued me for my truck doesn't even match the plate. It didn't take photo examiner error for this technique to be effective- they err'd before the plate left ever the factory… Anyways, thanks for all the comments- I'm glad this experiment helped provoke some thought and stir people to consider some of the flaws with photo radar. It will be interesting to read the details of the independent study on the 101 photo radar safety survey when they finally publish it.
UPDATE 1/30/07- So this is the last update to this post- here is the new plate that arrived yesterday and has been swapped out for the 00DODO0 one – I'm happily sporting this one now but will consider changing to a new plate for all of '07 for a six-digit sponsorship fee… ;-)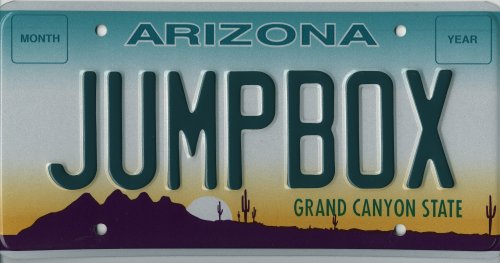 Here is the footage from the ABC "Good Evening Arizona" interview:
My favorite hate emails so far have been the ones where people say "what if someone is planning to commit a felony? You're helping them get away." Sorry, but which is more likely: that somebody planning to commit a serious crime will order a creative license plate then wait 6wks for it to arrive, or to just put duct tape over their plate and go do it? Oh crap I just told people how to put tape on their plate… c'mon people. I'm glad this experiment caused a stir and provoked some thought on the hypocrisy of photo radar. Aparently it made it all the way to
Houston
– sweet!
UPDATE 9/24/08: So the company behind the photo radar in Phoenix (Redflex) is more evil than I originally imagined. Apparently now they're implementing active scanning of license plates of every vehicle that passes through one of their cameras, OCR'ing the plate and comparing it against a police database (cue Minority Report music).
52 Responses to "The Vehicular Thomas Crowne Affair: how to creatively defeat photo radar"