File this one under the "nerd" category as this will be highly technical but I finally fixed the hotsync from my Treo 650 to my Mac. Hopefully this post will help anyone else grappling with the same issue and googling for the cryptic error message I was getting. The problem turned out to be multiple issues. First the background…
I had the bluetooth hotsync working under the Palm Desktop software and OS X for awhile but one day it just crapped out throwing the error message "unexpected error 71013." It was seemingly a problem with the conduit since we could open the Hotsync manager but upon trying to open the conduit manager, nothing happened. I tried reinstalling the Palm Desktop software but ran into a strange issue where I couldn't delete the old instance. Apparently the Palm installer installs the software as root rather than the administrator that it's running under and I was getting the message "Cannot delete trash. Localized.rsrc in use." It took a friend to show me how to go into the command line and navigate to this hidden trash folder under /users/root/Trashes to clear out the file in use. So we were able to get it back to square one with no Palm Desktop.
My friend Jay told me about an app called Missing Sync which supposedly would bypass the Palm software altogether and allow me to sync my contacts directly to the address book and my calendar to iCal (which was all I wanted). I bought the software (there is no free trial) and installed it per the readme but unfortunately got a new error saying "Unable to connect to Hotsync, port is in use by another application." This was annoying. I followed the Missing Sync tech support representative's instructions and tried killing the bluetooth preferences and repairing my phone to the Mac. Nothing.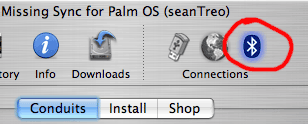 What ended up being the problem was an obvious mistake on my part in failing to enable the bluetooth connection from within the Missing Sync software. Apparently the bluetooth is turned off by default and the interface for enabling it is an icon which glows blue when it's on. I missed this crucial step so the bluetooth connection was working fine but my phone was effectively "knocking on a door that nobody knew to answer." Once the Bluetooth was enabled from within Missing Sync, all worked perfectly.
I will say Missing Sync is pretty slick and gives you all the functionality you'd want from the Hotsync software plus the capability to sync iPhoto and your iTunes playlist as well as AvantGo. Kudos to Mark/Space for excellent software and solid support.
5 Responses to "Treo to Mac bluetooth hotsync prob resolved"