I use the del.icio.us service for my bookmarks and make a habit of tagging the things that I don't have time to read yet want to come back to with the "ToRead" tag. When facing a long plane flight you can certainly bring traditional reading material to fill your time but I like to catch up on the current information that seems to get neglected when I have an internet connection. The easy trick to do this is to open your "ToRead" taglist in del.icio.us and if you're using Firefox as your browser run down the list of links and right-click "open in new tab" for each item.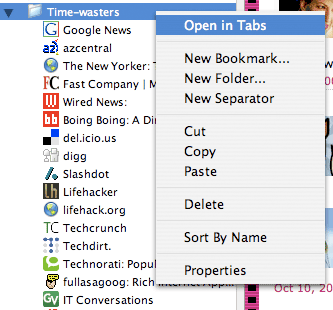 You can use this same trick on a folder of bookmarks as well and it's even easier since it allows you to open an entire set of bookmarks in new tabs with one click. I have a folder of bookmarks called "Time Wasters" that consists of links for non-essential leisure reading. I like to grab the homepage of each site and cache it in my browser before leaving for the airport. This allows me to catch up on a bunch of mindless stuff on the plane and if I run across a story in the air that I want to read more about, I select the text and drag it to the desktop (on a Mac this logs both the text as well as the source of the content) so I can come back to it later.
You can use this technique of opening a bunch of web pages on any web-based service that isn't making use of AJAX to refresh itself. It works with Bloglines though the navigation on the left side will eventually die because it uses AJAX – the right frame with the content should remain in tact however. Gmail does not work with this trick because of its heavy reliance upon AJAX. If you find other creative uses of this tactic, please share them here.
UPDATE: no sooner do I publish this when I find this article on lifehacker. That proposed method is more automated but windows-specific. This trick with the tabs will work on any platform that supports Firefox and the files cached locally will automatically be cleared out (ie. it means you can avoid the manual process of removing them once you are finished reading them and instead just close the tabs).
3 Responses to "lifehack: trick for grabbing useful reading material before a long plane flight"