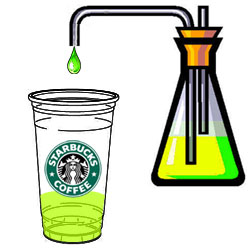 So I think I've broken the code on the green tea at Starbucks. By the way I'm addicted to this drink. Every day at 3pm I jump in my car and make the pilgrimage to the closest dealer –ahem, I mean Starbucks– to get my venti unsweetened shaken green tea. This habit which costs me $2.11 each day has roughly the same financial impact as the nicotine addiction for the smoker that consumes a pack of cigarettes every day (granted it's a little bit healthier).
I had a good idea of what I thought was in their tea so I experimented a bit with making it on my own and I believe I have perfected the mix. I knew there was an echinacea flavor in there and I notice they use a syrup for the mix which seems to have a faint honey taste. Here's the simple recipe I've arrived at:
two bags of green tea
one bag of echinacea
one teaspoon honey
one quart water
Brew this up, then ice it and I challenge you to do a taste test and pick the one that's the Starbucks mix. You can get the antioxidant Celestial Seasonings Green Tea online 40 pouches for $6 and 20 pouches of the Echinacea for $4. The venti size at Starbucks is 16oz (1/2 quart) so for $13 (tea plus the honey – prices online are similar to store prices), you can get 40 servings. Assuming yours is a daily habit at Phoenix prices, ignoring gas and time savings, that translates to roughly $50 in savings per month. Plus you don't have to deal with Starbucks zombies. If you are as addicted to this stuff as I am, this home brew trick just might save you enough money to be able to afford the green tea anonymous rehab treatment you will undoubtedly need. I'll see you at the next session.
17 Responses to "lifehack: Cracking the Starbucks Green Tea Code"