Contrary to posts I've read on the nightmares people have had with Dell, I had my third experience with their customer service yesterday and it was nearly flawless. I actually added a new category of feed called "Endorsements" to offset the "Rants" and acknowledge companies when they kick ass. Every computer breaks occasionally – you can't fault a manufacturer for goods that wear out from usage – just like with people, it's how they handle the problem when it happens that defines their character and all I can say is that this is the reason I bought a Dell in the first place. The experience of getting the repair was _nearly_ perfect and my only qualm with it was that they buried the service request form deep in their site and made me go through their troubleshooting wizard before displaying the ability to file a service request. I can see how this would help limit the number of unnecessary requests by forcing people to try their troubleshooting steps first but I knew this problem required filing a service request and spent about 15min hunting around their site for it before attempting the wizard.
So I've been hammering out code for ABC the past few days which is good, but the problem with hammering out code is that you hammer out your keyboard as well- my "d" key became ultra-sensitive on Monday and started generating the letter "d" spontaneously while I was typing. I've had my Inspiron 9300 for almost a year now and other than an SD reader that went bad this summer, this is the only problem I've had. It wasn't a total showstopper for using the machine but it was definitely a nuisance and hindering my ability to type quickly because I was constantly deleting a bunch of "d's" (deeezz nuuutz). I checked the dell.com site and found that I had 11 days remaining on warranty, floundered briefly on their site trying the livechat and looking for the service request form, finally found it by walking through their troubleshooting wizard and filled out the request form. I got an email an hour later from a human that said I didn't have on-site warranty status and I would normally have to send them my laptop but that in light of the repair necessary and my expressed inability to go without a machine at this crucial time, they would drop a keyboard in the mail along with instructions on how to fix it (the beauty of human intervention over automated handling of this service request). Having never performed a keyboard transplant before I was skeptical about conducting this type of surgery myself but given that the hindrance in typing was becoming a real roadblock, it made more sense to try and fix it.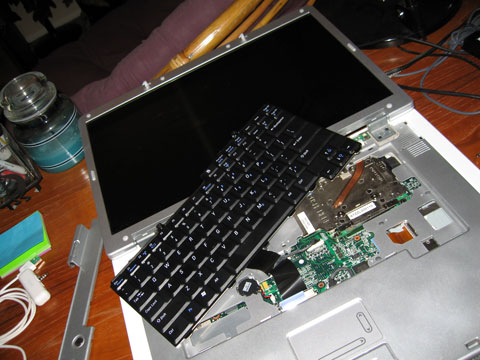 The next morning (yesterday) when I got to work, there was a new keyboard on the doorstep complete with tools and instructions on how to make the swap. Somehow between writing code, learning songs for our upcoming gig and dashing off to the Refresh meeting, I managed to perform a successful transplant of the keyboard and I'm now happily back in business. There was prefilled air bill in the box and I just repackaged the defective keyboard with the tools that were included and dropped it in the mail today. This is how it's supposed to work, right? I have to give props to Dell for a stellar display of what good customer service should be.
On another note the Refresh meeting was probably the best I've attended so far and we had a lively round table discussion with about sixty participants of what's involved in launching your own business. I recorded the audio and made it available here. If you're outside of Phoenix, check www.refreshingcities.org to see if there's a Refresh in your town yet – this is a very passionate group of people sharing insights about their trade. Big ups to James Archer from 40 Media for moderating this discussion.
© 2005 Lights Out Production – All Rights Reserved Worldwide
2 Responses to "Acknowledging good customer service"