Hopefully this trick is useful to anyone doing taxes right now and using MS Money. MS Money is probably the only M$ product I really like. I switched this past year from using Quickbooks to running all my accounting through MS Money and it's been _way_ easier. I don't know the proper accounting jargon for how they're different (as far as I understand, both are double-entry accounting programs but MS Money just auto-handles one side of the equation and assumes it's crediting cash). Both can integrate with your bank account but I never figured out how to do what I wanted with QB which was to NOT have to enter each transaction manually in two places. MS Money pulls transactions automatically from my bank so all I have to do is go through and reconcile with my paper bank statement at the end of the month so that means less work. Plus it can be "taught" what categories the expenses are and it gradually learns to categorize them on its own. Anyways, this is not a commercial for a M$ product though- it's a tip for creating a report which they don't give you out of the box.
Your accountant will probably ask you for a general ledger first thing. For whatever reason MSMoney does not have this as a canned report and looking all through the Microsoft.com site and googling for a tutorial on how to do create one produced no results (I'm using 2003 Deluxe btw- I read all kinds of bad reviews of the latest version). So we waded through a few of the report screens until we figured out how to customize one of the pre-packaged reports to give us what we needed. Here's what we did:
Fire it up and go to the reports tab:

Choose the Monthly Income and Expenses report:
You'll get this ridiculous pie chart (which is about as useful to your accountant as a fingerpainting – that's okay, we'll fix it).
In the left menu, change the view from Pie chart to Report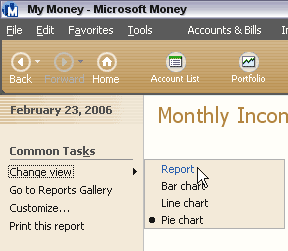 This gives us tabular data but is still not useful because we need to specify the date range: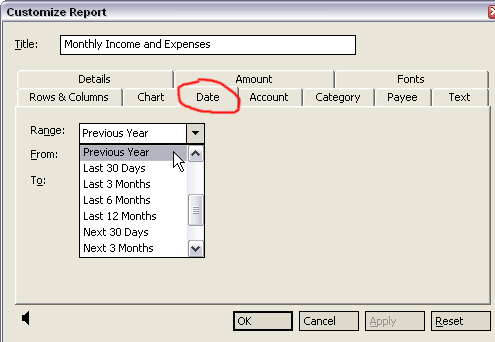 We also need to limit the report to pull from only the account we're interested in. I have both my personal and business accounts connected to MS Money which is nice for managing things in one place but for the purposes of reporting your business taxes, clearly you want to separate them out.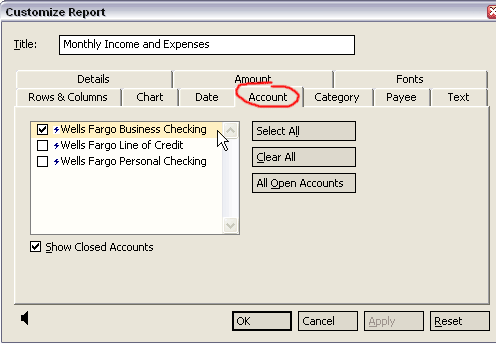 Okay, good deal- so now we have a general ledger report within MSMoney for the business account for the past year. This doesn't do my accountant any good though since he doesn't have this program. We need to export this report to excel.

On the left menu, yea…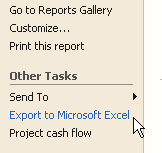 And there you have a pretty spreadsheet that contains all the data from our MS Money report and that can be used by any accountant who has excel (and even notepad, but then again if your accountant doesn't have excel, you've got bigger issues ;-)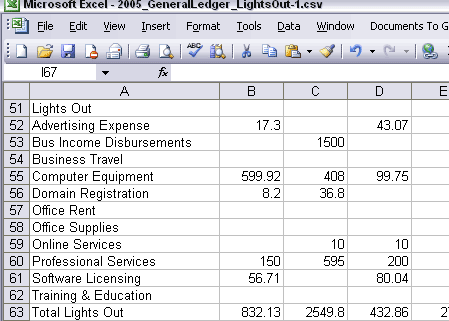 I'm sure Quickbooks is more appropriate for some businesses but mine is pretty simple and for me the priority is minimizing the time I have to devote to tedious tasks like data entry and still retain useful reporting features and being able to give my accountant whatever as needs as quickly as possible. HTH
-sean
© 2005 Lights Out Production – All Rights Reserved Worldwide
One Response to "How to produce a general ledger report from MS Money"