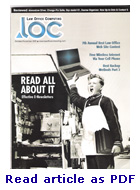 I recently wrote an article for Law Office Computing magazine on a piece of technology that functions as a "Lojack" for your laptop. The article is not linked on their web site but thanks to Jamie Tyo from the magazine for permission to republish the article here. The highlights of the technology are:
A very small program gets installed that dials in once each day to a secure data center to report the location of your computer.
In the event that you flag your computer as stolen, the next time it calls in, it bumps up the call frequency to every fifteen minutes and notifies their recovery team.
THEY handle the legal process of working with local law enforcement to retrieve your computer and will insure each unrecoverable machine up to $1000.
If it's a lost cause and your computer went to Colombia with sensitive data on it, you can remotely delete the contents of the hard drive.
There are other reporting features in the administrative interface that can offer useful data for large enterprises like software compliance, hardware changes and hard drive usage.
I ran an actual field test for the article and it worked as advertised. I fired quite a few questions at their recovery officer and he had impressive responses to all. Check out the article and if you have any questions about the test or the technology itself, feel free to post them here.
© 2005 Lights Out Production – All Rights Reserved Worldwide
6 Responses to ""Lojack" tracking technology for your laptop"