One of my best friends Benny.com happened to be in Berlin, Germany traveling on an 8wk Europe adventure and invited me to visit him for Lollapalooza. I had never been to Berlin before (nor any part of Germany for that matter) so I said yes and booked a cheap flight to meet him. Her are some quick thoughts on the city and the concert experience while they're still fresh…
The Negatives
Preconceptions about cities: crazy how far off some of my preconceptions have been about the places we've visited (Belgrade and Germany erring in opposite directions). I had envisioned Berlin, the capital of the country which is the financial powerhouse of Europe, to be this spotless mecca of German engineering and perfection. The streets there were the dirtiest of the places I've been thus far out of Prague, Vienna, Belgrade, Split, London and Portugal.
Internet performance was 3rd-world quality in terms of speed and reliability. It wasn't just cellular data service but the Internet itself seemed to be fundamentally broken there. Benny was explaining how a monopoly on the "last mile" of cable there by Telekom.de created a dearth of competition and set the stage for this problem. Whatever the cause, it was shocking to me how poor the connectivity was. It was to the level where I believe that factor alone would have precluded our Remote Year group planting there for a month with 70 knowledge workers reliant upon sketchy connectivity.
Uber isn't there yet: How is Uber not in Berlin yet
The Positives
Vibrant creative feel: it has a young, vibrant aura to it. The people all look super healthy and fit and holy cow 6′ blonde German women… zastavit. Street art was abundant and there's a skate store on every corner (which is confusing because all the streets are cobblestoned so I'm not sure where anyone skates). But mad respect for the plethora of skate shops and vinyl record stores.
You walk everywhere. In all we did just under 68k steps and just over 17mi in 3 days. The concert venue for Lollapalooza wasn't that big so most of that walking was wandering around the city.
The food was solid: all the places we ate at were great. I had probably the best burger of my time in Europe the first night and the food every meal thereafter was on point.
Benny and I still have game in foosball after all these years since iTOOL.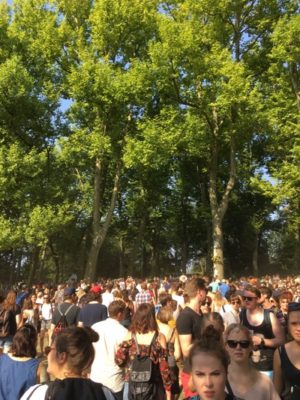 Lollapalooza was a blast. Radiohead destroyed it and that was my first exposure to a Major Lazer show (which was bananas). Odesza was a cool new find- I had never heard of them before. We got there late on Sunday so just caught the tail end of Milky Chance and all the other bands we saw just blended together. It was a really cool venue for it in a big park with massive trees and concert infrastructure was fairly solid. The one thing that was a real detractor was the level of dust kicked up by the 70,000 concert goers. I don't know how they mitigate that short of constantly spraying down the field (but then it becomes a mud pit). But all in all very well-handled event.
This photo and video album below gives a good flavor of the weekend. I'm back in Lisbon now and just kicked off Startup Weekend Lisbon earlier tonight. I pitched an idea for an app I want to build called DiscoverPath and we have a killer team to execute this weekend. More on that soon…